If you find yourself looking for a brunch spot this
 holiday break then I've got you covered because nobody does Instagram worthy breakfasts and brunches like Australians. Let's face it – it's not even about the food anymore. It's about the location, the abundance of natural light, the décor, the presentation of the food (no matter how impractical) and how good everything would look together on a table for a photo. Most of these places will do terrible things to your waistline (possibly bust a notch on your belt) and have your personal trainer in tears but to hell with it – you only live once I say. Treat yourself.
Here is my list of top cafes and restaurants that should be on the top of your list o visit in Sydney. They're the most instagrammable cafes in Sydney and whether you're a local or just visiting – make sure you check them out. You can treat it like a food scavenger hunt except I'm saving you the hunt and just telling you where to go.
---
The Most Instagrammable Cafes in Sydney
Mon-Fri: 7:30am-2:30pm, Sat & Sun: 8am-3pm
Literally on a floating wharf with uninterrupted views of Sydney Harbour – do I need to say more? Food with a view is exactly what everyone wants and the fact that they offer something for everyone just makes the deal even sweeter. The  waffles are a personal favourite but if you like savoury then the eggs benedict are amazing.
Mon-Fri: 7am-4pm, Sat & Sun: 7:30am-4pm
There is literally always a line at The Grounds so my advice is always to get in early or you could be waiting around for an hour or two. Lucky for you there is a lot to keep you entertained at The Grounds including my favourite florist and of course, Kevin the Pig. Every person that's on Instagram has probably posted an Instagram story or photo at The Grounds. So why not check out what the fuss is all about – I literally went almost every weekend for half a year because I loved it so much.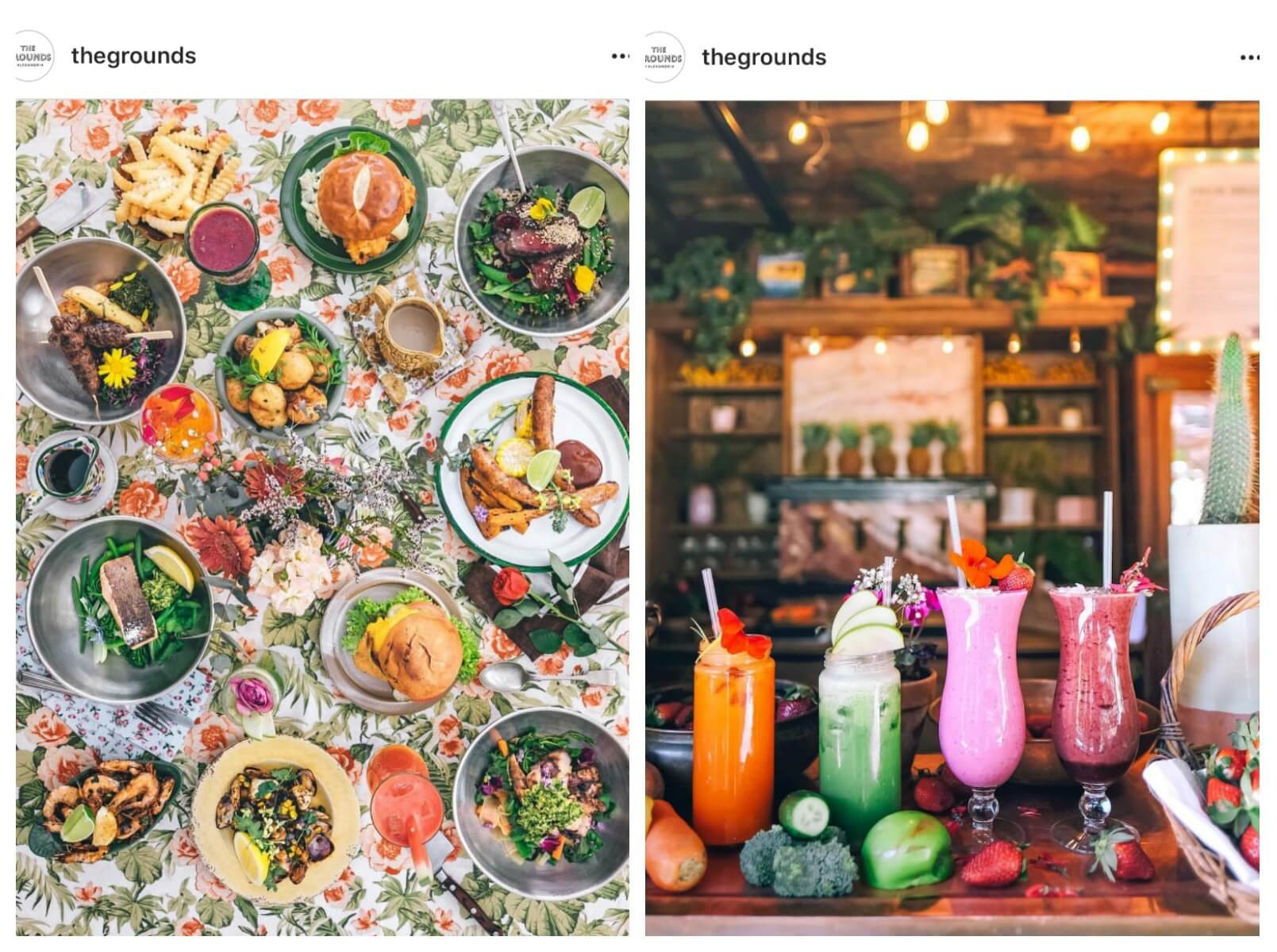 Flower Child, Chatswood Westfield & Warringah Mall
Chatswood – Mon-Sun: 8am-5pm (open till 8pm on Thurs)
Warringah – Mon-Wed, Fri: 8:30am-4pm, Thurs: 8am-8pm, Sat: 8am-4pm, Sun: 8:30am-4pm
One of my favourite local joints to frequent for meetings and coffee runs and of course conveniently located across from my favourite nail salon. The décor reminds me of a greenhouse almost with patio furniture, hanging baskets of flowers and rustic wooden fit outs all with an abundance of natural light flooding in despite being inside a shopping centre. Everything tastes amazing on the menu but the waffles and burgers are probably the most popular judging from what you see around you from the moment you walk in.
Henry Deane, Hotel Palisade, Millers Point 
Mon-Thurs: 12-3pm, 5-10pm, Fri & Sat: 12-4pm, 5:30-10pm, Sun: 12-4pm, 5:30-9pm
Imagine 360 degree views of Sydney including Barrangaroo and Millers Point with comfy lounge style tables. I was incredibly impressed with the renovated Hotel Palisade and its rooftop jewel that I had to include it in this line up even though they don't serve brunch food and is more of a bar than a cafe. Nevertheless the oysters, scallops and ceviche will keep your stomache happy and the best part is that their menu is designed for sharing so you'll get to try a bit of everything.

Tues-Sun: 7am-3pm
This one is a newbie and opened by an old friend of mine located on the corner of McEvoy and Elizabeth Street. Think pink is all that comes to mind when trying to describe it. The concept behind the joint is having junk food but in a glamorous plush pink setting. Don't worry, you won't be walking into a Barbie dollhouse but a café that has been designed tastefully that even the boys will like – whether they admit it or not.
Mon-Sun: 7-11:30am (breakfast), 12-3pm (lunch)
Balmoral is a beautiful location for a weekend stroll before settling in for a perfect boozy brunch in the sun at The Boathouse with friends. Wooden stools and deckchairs, white picnic benches and blackboard menus are what you will find in this place as well as panoramic views of Sydney Harbour. You could also visit The Boathouse at Shelley Beach as they both have amazing views.

Mon-Fri: 7am-3pm, Sat & Sun: 7am-4pm
This veg-centric eatery screams healthy and wholesome from the moment you walk into the warehouse setting. The menu changes daily so each visit will be different but you can guarantee yourself a healthy and filling meal. Did I also mention the place smells freaking amazing when you walk in? I literally start salivating from the moment I walk in.
Mon-Sun: 7-11am (breakfast), 11am-till late (lunch)
Hampton-esque fitouts with European inspired lunches overlooking Sydney Harbour is just what you need on a beautiful Summer day. If you love seafood then you'll love this joint because there's no shortage of it and they have a killer cocktail menu to go with it. Get there early because this place is buzzing throughout Summer.
Mon-Tues: 12-11pm, Wed-Sat: 12pm-12am, Sun: 12-10pm
The best view of Sydney CBD can be found here and in fact, I lived just a few doors down from the Butler a few years ago and still fall in love with the sight each time I'm there. The Butler gives the instant feel that you've stepped into a       botanical dreamland in all its green foliage glory. Plenty of choices when it comes to food and drinks and all designed for you to share between a small or large group.
Mon-Sat: 7:30am-4pm (6pm on Thurs), Sun: 8:30am-5pm
They're known for their insanely gorgeous and indulgent shakes that should give you diabetes just by looking at it. They have your standard breakfast choices but let's be honest here – we came for the shakes. You might not even want to touch your shake once it comes out because it looks so beautiful.
Enjoy guys and don't forget to share this with friends or invite them along to your next Instagram-Worthy Brunch!!
SaveSave
SaveSaveSaveSave
SaveSave
SaveSave