As a girl who lives and breathes fashion, one of the key staples that every woman (and man for that matter) should have in her arsenal is a leather jacket. A black leather jacket is an investment we all need to make at some stage and is the iconic symbol of it-girl chic. It'll leave a sizeable dent in your bank account but it'll stay in your wardrobe for years to come.
Sure you can pick up a piece from your high street retailers for a fraction of the price but do you find that there is always something not right with it? Maybe it's the quality of the leather… or the sheen it has… or maybe the colour of the hardware just isn't right. We all have different preferences when it comes to finding our version of perfect. As it goes with finding the perfect man, it also goes with finding the perfect leather jacket – it's a process.
I'm not sure I've got a solution for finding the perfect man for you but I do have a solution to your leather jacket woes. Boda Skins. I was first introduced to the brand about two years ago when I received my first customized jacket from them. I loved it. From the moment I unboxed my new baby to the moment I proudly hung it in my closet with all my other prized jackets – I knew this one was special. Why? Because I had personalized it just the way I wanted it.
If you're not familiar with the brand already then here's the lowdown. Founded by Nathan Alexander, the brand was created from a love of all things pertaining to leather jackets. Let's face it, we all have a healthy obsession for leather jackets and he's just made our lives that much easier with Boda Skins. All jackets have been crafted with Napa leather and the best part is you get to customize the leather, the hardware and choose whether you want personalization.
I've put together my list of 7 things to consider when buying a leather jacket for you here and the best part is, most of these things are customizable with Boda Skins.
7 Things to Consider When Buying a Leather Jacket
Leather
I know what you're thinking… no sh*t Sherlock. You'd be surprised at how often some people will compromise on the quality of the leather just to achieve 'the look'. The determining factor of whether or not a jacket will last in your wardrobe is the quality of the materials used to construct it. Touch your leather jacket (not in a sexual way lol) and take note of the thickness, how soft the leather is and the sheen on it.
Depending on your style you'll want something that's versatile so a leather that is understated will go a long way. You also want leather that will wear well with time because unless you're surrounding yourself with a protective bubble – it'll fade, scratch, soften and crease with each wear. Choose something that's not too supple and one that's not too stiff (you want to be able to move around comfortably). Think of yourself as being Goldilocks and choosing the porridge that is just right.
Style
Picking a style of jacket is also another thing you'll need to take into consideration depending on the rest of your wardrobe. Is it a bomber style that you want? Bombers have been incredibly popular these last few years and the leather iteration is no exception. They're great if you have a laid-back casual style and tend to wear jeans more often.
Moto/biker jackets are great styled up or down and have been the staple item of pretty much every girl in fashion these days. You can also add a little shearling to the mix if you're feeling the aviator vibes.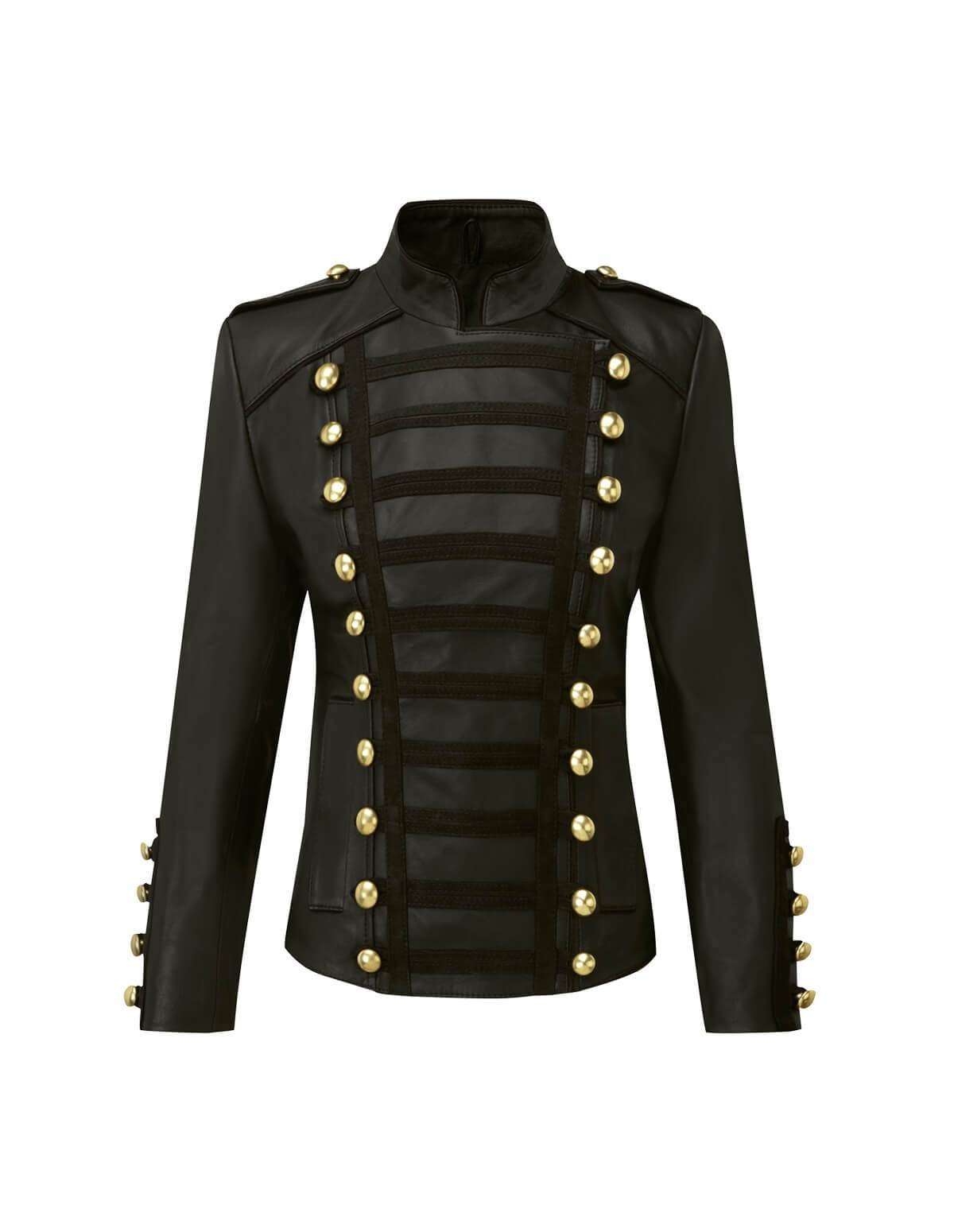 Hardware & Detailing
Do you find that you gravitate towards a particular colour in metal? Be it jewellery or handbag detailing? For example, I find myself gravitating towards gold, which means that I'd like my jackets to either have the same hardware or at least have neutral hardware that compliments the rest of your wardrobe. Gold tends to stand out more and some don't like the 'flashiness' so make sure you choose carefully before you invest.
Detailing on the jacket is also crucial and always remember – less is more. Don't be tricked into buying something that's super intricate because chances are, you'll get sick of it within a handful of wears. So ban dangly chains, Swarovski embellished pockets, studded shoulders, and rugby player shoulder pads from your list of requirements. But let's also remember not to be too boring so look at where the zips are placed, the pockets, the stitching, the patchwork/ribbing and go with something that's classic.
Collar/Lapel Shape
Whether you want a collar/lapel or not is another decision you need to make because it changes the style of the jacket instantly. My personal opinion is to always have a lapel and the more basic the better because anything trendy will have you losing interest within just weeks.
Length
Ask yourself these questions before you decide…
Will I wear thing with jeans/pants or dresses more?
What type of body do I have?
Both of these will determine which will suit best for your wardrobe needs because a cropped length is more flattering on dresses but not so much with trousers and jeans. If you're also more petite in frame then you may also want to opt for a cropped version so that you don't drown in your leather jacket.
If you're taller in stature then you can probably pull off a longer jacket for both dresses and pants in your wardrobe as you have the physical length to carry it.
Shoulders
Too narrow and you've got yourself a jacket that's too small and too wide… well you'll look like you belong in a scrum. If you've got your shoulders too narrow then chances are you won't be moving your arms a whole lot and I daresay you'll look like a robot in your movements.
The perfect shoulders to the jacket will frame you perfectly and shouldn't make you look bulky.
Lining
I think I'm divided when it comes to having nondescript lining or bold lining. I think what's important is that it's lined – period. Neon lining is probably not a great idea because at some stage, you'll get glimpses of it and if it's fluro pink…well… you get where I'm going with this. But then if it were say a navy tartan on the other hand, I could definitely live with that. I guess it comes down to personal preference.
What do you look for in your leather jackets?