I've decided to round up a few of my favourite designers this month for you guys and just in time for one of the biggest Shopbop Sales of the year. There really is a mixture of styles in here so there's hopefully something that will catch your eye!
**If you're not already a loyalty member then make sure you sign up now so that you get early access to all the sales (because who else hates finding the perfect dress on sale, only to find it sold out in their size?).  Loyalty members will have access on the 25th of September at 7:20am whilst others will need to wait till the 26th to have access!
Here's the deal guys: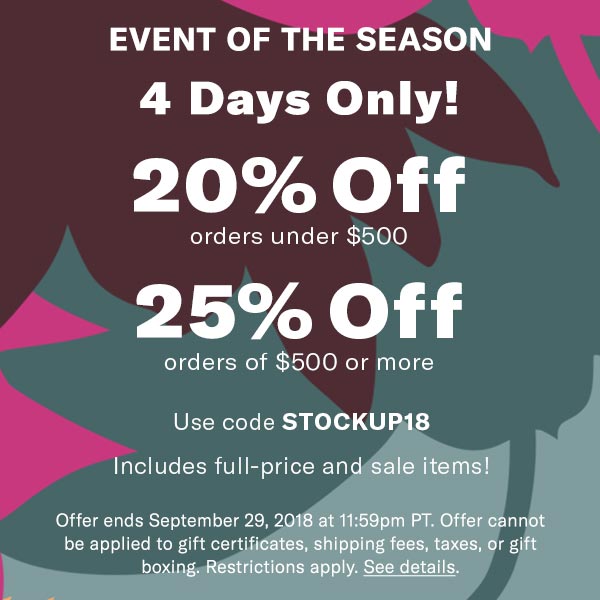 One of the labels out there that you can always count on to have a sexy dress for any date night plans you might have – Nicholas. I've always been a supporter of Australian designers and Nicholas is no exception to the rule.
Floral Drawstring Dress here.
Leopard Dress here.
Tie Front Maxi Dress here.
If you want something that strikes the perfect balance between sexy and sophisticated then you'll love what Vince has to offer. I've always found their pieces so versatile – you can wear it to work and then head straight out for a date afterwards if need be! So I've put together a few wardrobe essentials from this L.A based brand for you guys.
I have been in love with LOVESHACKFANCY for years now after stumbling across the label whilst shopping in Saks Fifth Avenue on my last day in L.A. They represent everything boho, feminine and free spirited that I love and the designs are always so stunning. They recently worked with one of my style muses, Elle Ferguson and if I haven't sold you on LOVESHACKFANCY then Elle will.
Tara Dress here.
Natasha Dress here.
Marceline Dress here.
Marc Jacobs has really got me these last few seasons with all the colours and I'm slowly coveting those camera bags I've been seeing everywhere. Here are just some of my favourite pieces online at the moment.
The designs are always out there and super playful so you're guaranteed to stand out in a crowd with Alice+Olivia. I was in love with all the retro colours and put together this little collection for those feeling bold and adventurous.
The Opening Ceremony in-house line of what started as a boutique housing emerging designers from around the globe is definitely one for those who want to gain a little street cred.
Allover Logo Sweater here.
Queen Lace Boots here.
Plaid Mix Skirt here.
Happy Shopping everyone!
Check out my other fashion related posts here.